Google's new Site Kit WordPress Plugin provides analytics directly in your dashboard
Google has officially launched its new Site Kit WordPress plugin. Site Kit brings together data from Google Analytics, Adsense, Search Console, PageSpeed Insights, Tag Manager, Optimize, and Adsense and displays useful site data within the WordPress admin area.
According to Mariya Moeva, Product Manager, Search and Content Ecosystem, Site Kit provides "insights on how people find and use your site, how to improve and monetize your content, with data from multiple Google tools."
Google is promoting Site Kit for site owners, developers and development agencies, plugin creators, and hosting providers.
For site owners, Moeva said, it is the "easiest way to install and manage Google products on your site." She continued, "no source code editing" is required.
For developers or development agencies, Moeva says that there will be no need to build reports from multiple data sources, "you'll get aggregated insights […] distilled in a dashboard that your clients or other teams can easily access."
Furthermore, developers will be able to set roles and permissions to ensure that "only the relevant people can see stats from Google products," says Moeva.
For plugin creators, and hosting providers, Moeva says it will be a "scalable, easy way for your users to provision and access key Google tools and metrics." Furthermore, developers will be able to "pull stats from the plugin dashboard" and display them "natively in your platform's UI."
Easy three-step set up wizard
Site Kit is easy to set up.
After installing and activating the plugin via the WordPress admin area you will be presented with a three-step setup wizard:
Site Statistics for your entire site
After configuring Site Kit, you will have access to all your site statistics from within your admin dashboard: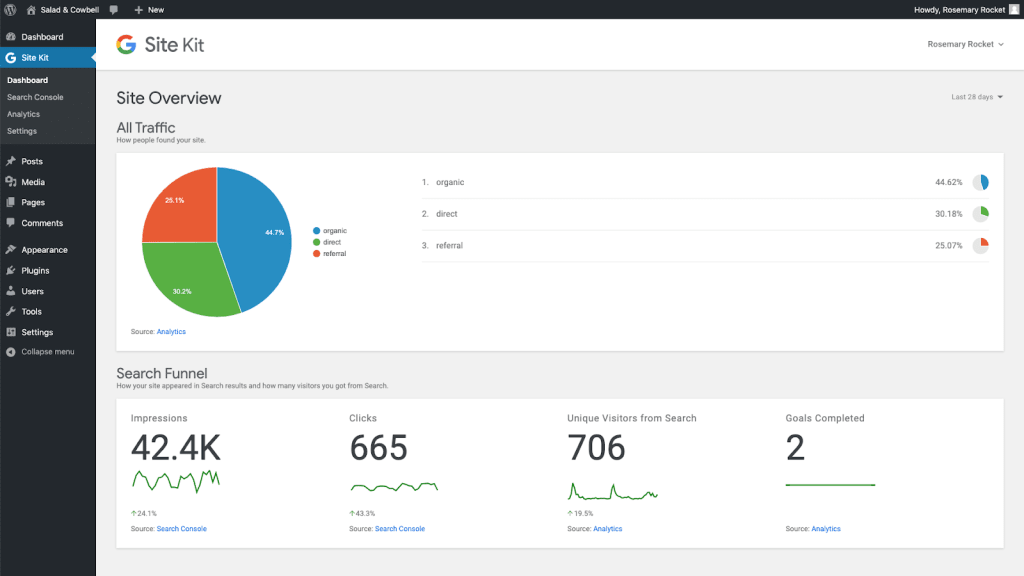 This report includes the following sections:
All traffic - Based on data from Google Analytics, this report helps you understand how people found your website.
Search funnel - Using data from both Google Analytics and the Search Console, this report shows you how many people saw and clicked your site in the Google Search Engine Results Pages.
Popularity - Again, using data from both Google Analytics and the Search Console, this report helps you understand which pages on your site are the most popular, as well as the top search queries used by your visitors.
Speed - Using data from PageSpeed Insights, this report will check your homepage site speed and provide a report displaying any critical issues.
Adsense performance - If you use Adsense, this report will show your estimated earnings, ad impressions, RPM, and top-earning pages.
More information on the different sections can be found in the Site Kit documentation.
Page statistics
In addition to the site statistics page just discussed, Site Kit displays statistics for each post in the admin bar.
At a glance, you can view total clicks, total impressions, total users, and total sessions.
Success Notifications
Site Kit will display notifications when you hit various milestones, such as receiving a record-high amount of visitors to your website.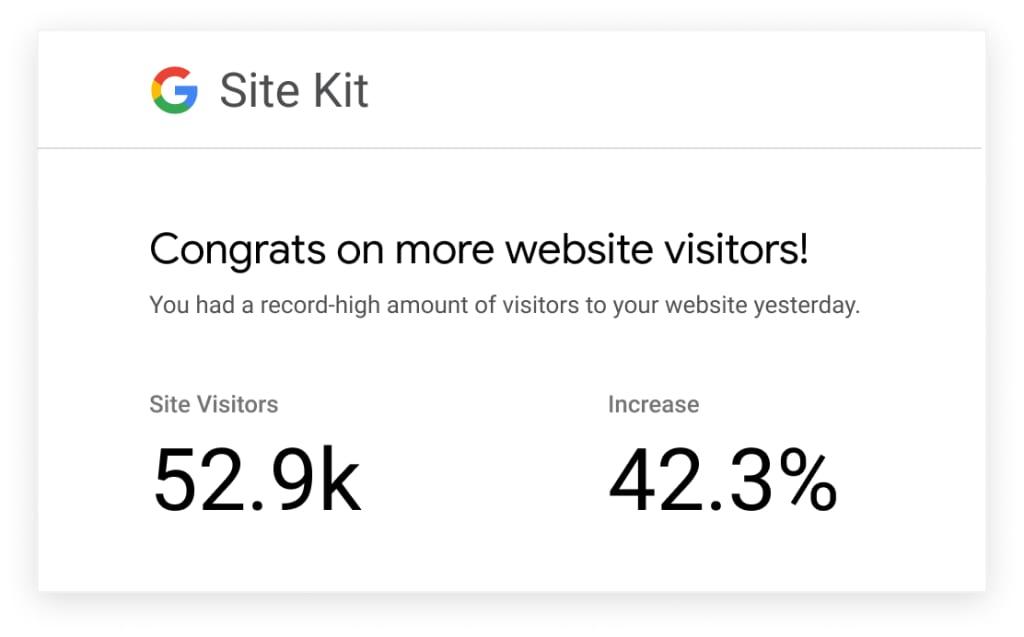 A/B Test with Optimize
Site Kit seamlessly integrates with Optimize, Google's free A/B testing tool. No code is required.
Optimize is integrated with Google Analytics, and allows you to test UX improvements so you can learn what variations work best for your visitors.
For instance, if you notice your mobile version has a higher bounce rate, you can A/B test layout improvements.