Expert 123 Reg Review
Jonathan Griffin. Editor, Hosting Expert, SEO Developer, & SEO Consultant.
"The more we looked at their website builder, the more we were impressed. While it doesn't have all the add-ons that a specialist website builder company has, we feel their modern designs and inSite features will be more than adequate for small business users.
They do, however, seem a little overpriced and lacking in features for their e-commerce plans. "
Easily Upgradable, both with their Shared Hosting, and Cloud Hosting.

Responsive Mobile Ready Themes that adapt seamlessly to any device.

Modern design interface that is extremely easy to use.

A large number of great looking templates to get you up and running fast.

Quickly add slideshows, galleries, fully customizable forms and more.

Built in search engine optimization tools.
Money Back Guarantee
14 days
4 Reasons to use 123-reg Website Builder
#1. Their website builder is very easy to use, with no technical experience being necessary.
Their design interface is really good. It is modern, and extremely easy to use allowing you to easily implement many different features. The only problem is going to be your imagination, but fortunately they have some great templates you can start from too.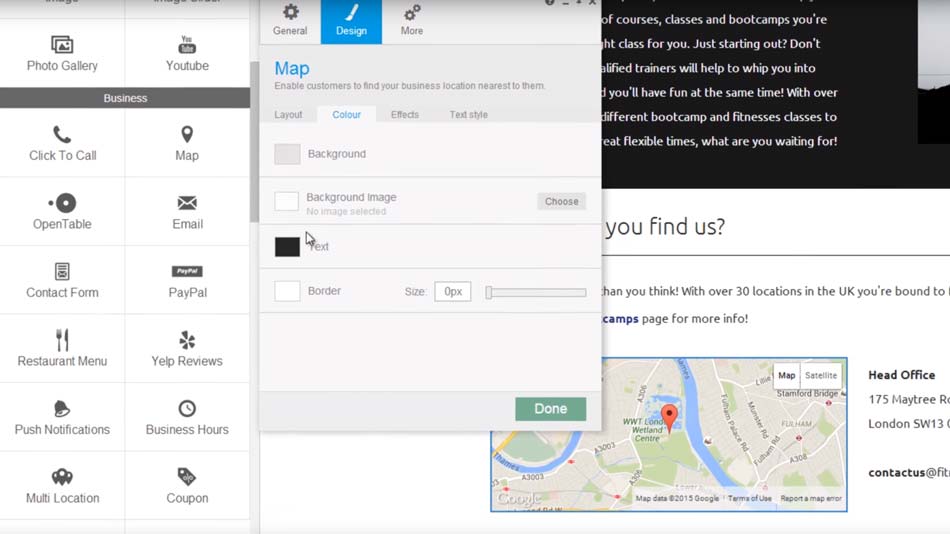 #2. Get up and running quickly by customizing one of many professionally designed templates that look good across desktops, tables or mobile.
We were very pleasantly surprised how great some of the basic templates looked. Quite often web hosting providers who offer their own website builder (as opposed to reselling a mainstream builder such as Weebly) will showcase some outdated, and quite frankly horrible designs.
You can choose templates from a variety of different professions or styles, which can then be adapted to make them unique, including:
Business - Multiple professions are included; Laundry, Handyman, Luxury transport, consulting, app, plus many more.
Restaurant - They have five different restaurant themes, of which at least two look really great.
Portfolio sites - Whether you are a designer, or just want to visually showcase your services or products, they have some great designs.
Beauty - Choose from lifestyle types themes, to beauty products or fitness.
An example of one of their latest designs is below: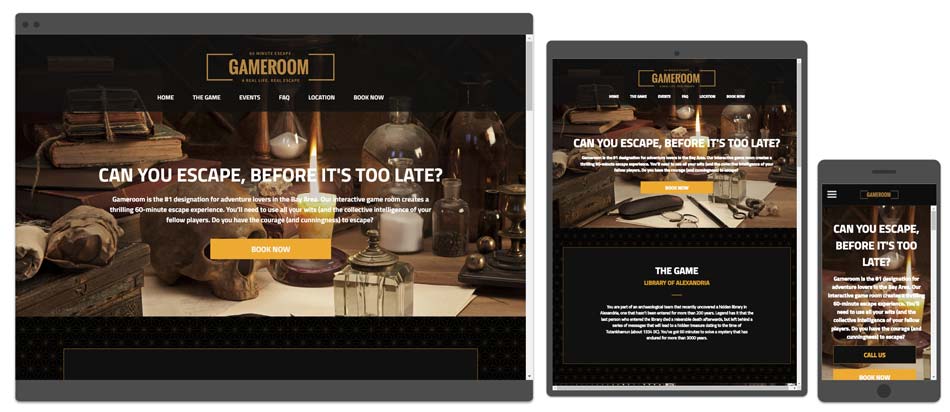 #3. An extensive set of standard features and widgets to make your website look professional.
You can easily and quickly add the following features:
Social icons - Display links to your social media accounts with smart icons.
Image sliders - Easily add a swipeable image slider to your website to showcase your products and services.
Google maps - Let people find you by integrating Google Maps in to your website; include step by step directions to your store.
SEO functionality - Get found by more of your customers with our simple to use, built in Search Engine Optimization tools.
Photo Galleries - Include a photo gallery on any page to showcase your products, customers or services and ensure they appear in the results for Google's image search so they can be easily found by potential customers.
Click to call - Website Builder connects your online and offline business. Your visitors can call in one click from a mobile device which can be limited to office hours. Great for shops, restaurants and professional services who want their customers to call.
Blogs - Website Builder allows you to share your knowledge and establish a community with your visitors by creating a blog that integrates smoothly with your website.
InSites - Improve engagement by personalizing your website based on how customers found you, where they are, the date, time of day and more.
Contact forms - Drag and drop a contact form onto your website to give customers a safe and secure way to contact you.
YouTube video - Embed any YouTube video by dragging this widget into place and take advantage of the internet's fastest growing search engine.
#4. inSites widgets allow you to create custom content for specific visitors, such as custom offers or greetings. This is one of our favorite features of the 123-reg website builder. With inSites you can provide custom content or styling to specific sets of visitors. This is great for providing custom offers to say, returning visitors, or even completely changing the look of your website depending on their location (i.e. celebrate specific holidays from certain countries).
Examples of some of the changes you can make are as follows:
Special promotions that run each year for a set period (i.e. Christmas or New Year)
Notification bars that display on specific pages only once per visitor (i.e. welcome message)
Add out of office message to contact page.
If a visitor is on a mobile or tablet and say in the local area, display a map.
Make sure your website is updated each day for the specific lunch time special
You can see a screenshot of just how easy it is to configure the inSite with their easy to use wizards below: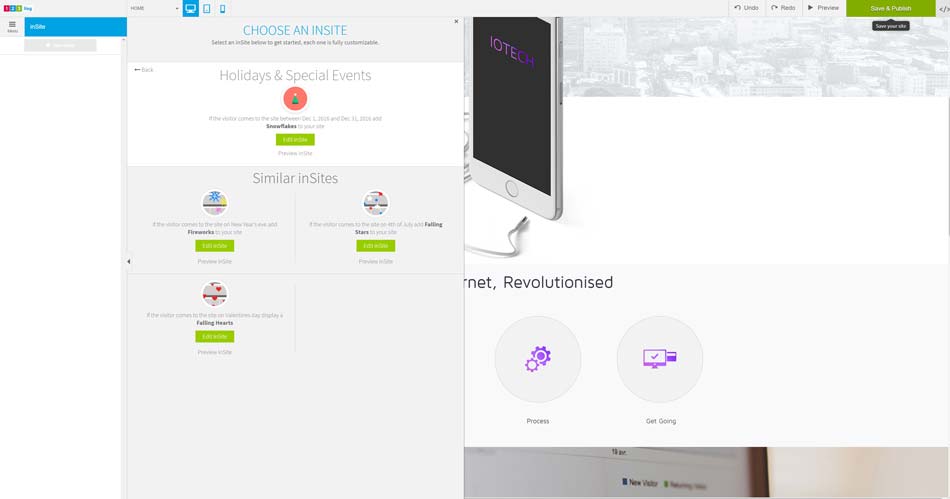 5 Reasons why you might not want to choose 123-reg for your website builder
#1. Even though you are able to pay monthly, you are still tied to a 12 month contract.
The billing terms are quite unusual. Not only is there no visible money-back guarantee period, but there appears to be a minimum 12-month contract when you sign up, even if you choose to pay monthly.
When using a website builder, quite often you will want to try it out first to make sure it is suitable. While you can play around with one of the templates to check out the amin area, and get a feel for it, it does not appear that you can save or publish the website without first signing up.
#2. As with any website builder, you are pretty much tied to that hosting provider so if you decide to move, you will have to rebuild your website.
This is self-explanatory, and applies to almost all website builders.
#3. Charged to Move Domain?
Their terms and conditions state:
5.5. The Client accepts that the transfer of a gTLD Domain may require 123 Reg to carry out a manual transfer. In such event, the Client agrees to pay the applicable manual transfer fee to 123 Reg as stated on 123 Reg's website and as updated from time to time.
It didn't take much to find users that were charged $20 to move their domain away.
#4. Limited time Money Back Guarantee
They offer a 14-day unconditional money back guarantee, although this does not apply to domains or other add-ons. This is significantly less than any other web hosting providers, with many providing between 30 and 90 days money-back guarantee. It is therefore important to make up your mind whether you wish to stay with them relatively quickly.
#5. Requirement to give 30 days notice of cancellation or you will be charged automatically
After the money back guarantee period has run out, there are no refunds. If you wish to cancel at the end of the term, you should note that you need to give 30 days written notice, and there are a few complaints around the web of credit cards being charged automatically. You can find the relevant terms here:
12.1.1 the Client upon serving 30 days' written notice on 123-reg following completion of 123-reg' prescribed template procedures for terminating the whole or any part of the Agreement They clarify that the written notice can be made via support ticket.
While many web hosting providers have a habit of automatically renewing hosting at the end of the term, the 30 day notice requirement is quite draconian. If you sign up with 123-reg, just make sure that if you do not wish to renew at the end of the term that you give the correct notice and this will be no issue.
Users Reviews
The user ratings to the right reflect the total rating score of all 1 VPS Hosting Reviews left by our readers.
Date: May 8, 2015
Hosting Type: VPS Hosting
In the entire time I have worked with hosting companies, I've never seen anything like them. I had to call for the 5th time today to cancel my hosting plan. The first time I tried cancelling it, I was assured it had been cancelled. However, they still charged me and took money out of my account. When I asked to get refunded, they told me since it was a direct debit that I would need to wait, since my money was still with my bank. Then I had to call them again to ask for a refund. Finally 3 days later the money showed up in my bank account. Then I was notified a week later that they had renewed my hosting, and I got an invoice. So even though I cancelled with them twice, and cancelled a direct debit to my bank, they decided to renew my hosting! Once again they took money from my account, and I had to call to request my money back again. I wanted to cancel my account since I have a VPS hosting account, so I didn't need the old hosting anymore. However, my VPS is a complete nightmare. Support is terrible, with a bunch of excuses passing the blame, and there is also a lot of downtime. 123-reg overall is a total nightmare. I wouldn't recommend them to anybody. They need to get things sorted out, since the terrible service, stress and amount of time it takes to deal with them is definitely not worth it. I'm on to my next hosting company!
The user ratings to the right reflect the total rating score of all 1 Dedicated Hosting Reviews left by our readers.
Date: July 3, 2015
Hosting Type: Dedicated Hosting
123-reg really sucks!
The server default settings are for the log files to keep growing infinitely. I'm not a server guru, so I didn't know that something like that would have to be set different from what the default setting is. So after a couple months of using it, the log files get so gigantic that the server just keeps running and never stops. I sent in a support ticket, but still didn't have a response after several hours. So then I had to wait for the support phones to open up at 9 am. That sure was a lot of fun. The server didn't work all day long, and my tickets only got answered after harsh messages left on the their Facebook page or having long drawn out phone calls. Lots more fun. Then night time comes and I'm told all of the admins have left for the day, and they will look into it in the morning. So by the next morning my server will have been offline for 24 hours, and then they will just be starting to attempt to fix the problem! What a disaster. That's not support. They have many unwitting customers. When you have a small business like I do, this really is a huge disaster.
If it is important for your server to be online, then don't use 123-reg!
You know what's really funny? The last support person (Luke) that I talked to, said the server really isn't offline, it just isn't working. That's just unbelievable!
I'm off to find more review sites so that more people can be warned.
Frequently asked questions

Jonathan Griffin Editor, SEO Consultant, & Developer.
Jonathan Griffin is The Webmaster's Editor & CEO, managing day-to-day editorial operations across all our publications. Jonathan writes about Development, Hosting, and SEO topics for The Webmaster and The Search Review with more than nine years of experience. Jonathan also manages his own SEO consultancy, offering SEO developer services. He is an expert on site-structure, strategy, Schema, AMP, and technical SEO. You can find Jonathan on Twitter as @thewebmastercom.