In this edition, we cover 2 Google Algorithm Updates, a detailed look at how Nofollow links may soon be important, changes to self-serving review snippets, Google's new Search News YouTube Series, how it feels to browse the web in 2019, and much more.
In This Issue:
SEO & Search News
Google Update 3rd October 2019
There are signs that an update took place between the 3rd and 5th of October 2019.
It is difficult to know exactly what the update is targeting, with different sectors being effected on different days. Typical EAT categories such as health do not appear to be hit.
Online communities and Beauty & Fitness are a few of the sectors worst hit.
You can view a chart of the volatility below:
You can read more about the update here.
"September 2019 Core Google Update" - September 24, 2019
Google has announced that they have released a broad core algorithm update on the 24th of September 2019. They have named it the "September 2019 Core Update".
You can read our in-depth article about the update, including what to do if you are affected, here.
---
Google Search now shows key moments in videos
Google has officially announced that they are rolling out timestamps for key moments in videos. The goal is to help users find content that is contained in a video more easily.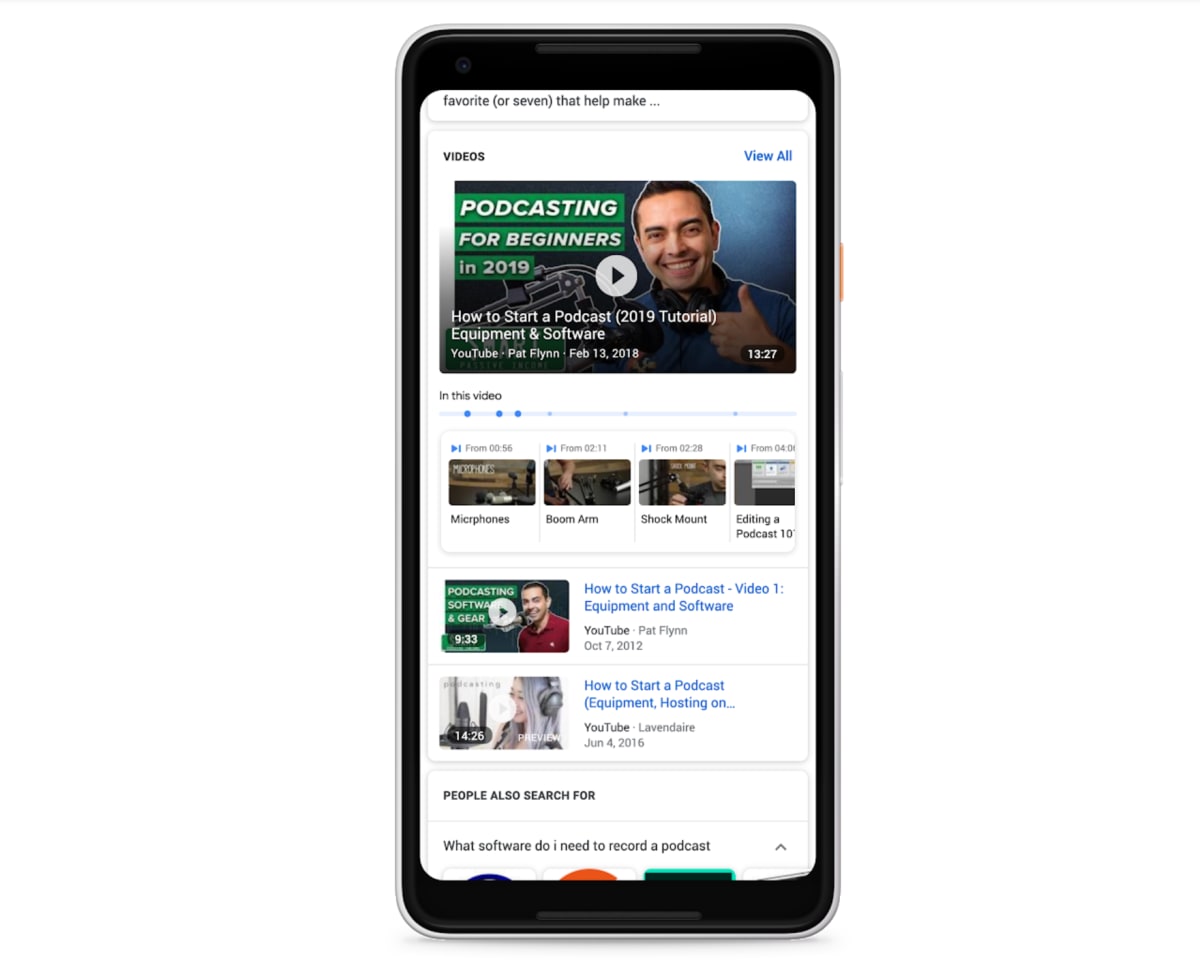 The new search feature is currently only for English videos hosted on YouTube where content creators have provided timestamp information in the video description.
I tracked down the video Google used in their example above. You can see how they have laid out the timestamps in their video description below:

As you can see, it is straightforward to implement.
They are also inviting large publishers to introduce similar functionality with their videos by using Clip structured data.
Key Moments in Google Search help users quickly navigate to specific points in a video. To enable the feature for your videos, you can add Clip structured data to mark important video segments in your video.

To ensure coverage and a good user experience, the feature is currently limited to a small set of providers.
---
Changing Nofollow was about using it as a Link Signal
Many SEOs are starting to ask questions regarding Nofollow links following the announcement of two new link attributes that I covered in the last newsletter..
Search Engine Journal has reported a third party conversation from some who was at a conference attended by Google's Gary Illyes. The quotes may not be 100% accurate (although the points made in them are), as the information was passed through several persons before being written down.
Here are the takeaways:
The principal point is that Nofollow deprived Google of Link Data. Gary Illes said:

Yes. They had been missing important data that links had, due to nofollow. They can provide better search results now that they consider rel=nofollowed links into consideration.

Many sites, such as Wikipedia, automatically nofollow all outgoing links. Gary commented on whether these will now be considered Dofollow:

It would be possible to ignore nofollowed links on Wikipedia. But it's still uncertain how and when to ignore them. That said, they're preparing prevention to protect against the abuse.

Publishers do not need to do anything for this change:

In general, you don't have to do anything for the change. Nofollow works as it was. Use Sponsored and UGC if you want to help Google identify types of links better.
---
Google may ignore NoFollow Attribute from publishers that use it by default
Google's Gary Illyes has said that Google may start counting links from publications that nofollow all outbound links by default.
The move to a hint based system may cover every link list to nofollow, including those from publications that blanket nofollow. We don't however have anything to announce at the moment, but I'm sure your sites will appreciate this move on the long run.

— Gary 鯨理/경리 Illyes (@methode) September 23, 2019
This could be a double-edged sword.
On the one hand, giving credit for nofollow links on high-quality publications is a good thing.
On the other hand, I can see Wikipedia and other similar publications being subject to a lot of link spam.
---
Self-serving Review Snippets no longer showed in Google Search
Google officialy announced changes to when it shows Review Rich Results in the SERPs.
The changes are being introduced algorithmically, designed to address the many invalid or misleading implementations that Google was made aware of by webmasters.
Google is limiting the pool of schema types
While you can attach markup to any schema type, some of these do not add much value. As a result, Google is limiting review markup to the following types:
schema.org/Book
schema.org/Course
schema.org/CreativeWorkSeason
schema.org/CreativeWorkSeries
schema.org/Episode
schema.org/Event
schema.org/HowTo
schema.org/Game
schema.org/LocalBusiness
schema.org/MediaObject
schema.org/Movie
schema.org/MusicPlaylist
schema.org/MusicRecording
schema.org/Organization
schema.org/Product
schema.org/Recipe
schema.org/SoftwareApplication
Self-serving reviews no longer allowed for LocalBusiness and Organization
Self-serving reviews are reviews about an entity place on the website owned by that entity. In other words, that website is in full control of the reviews it shows, as is likely only to display positive reviews.
Similar, this can apply to third-party tools such as Trustpilot when their widgets are placed on your own site. John Mueller clarified this point on Twitter:
I double-checked to make sure :) -- that's incorrect. Regardless of how the reviews are embedded on your site (widget or not), if it's for your own LocalBusiness/Organization, they would be considered self-serving and not be shown.

— 🍌 John 🍌 (@JohnMu) September 17, 2019
A good way to think about this is that even if you can't directly control how the reviews are collected (which can't be confirmed externally), you can choose which widget to embed.

— 🍌 John 🍌 (@JohnMu) September 17, 2019
That's correct. If you embed a widget with reviews about your site (LocalBusiness/Organization & sub-types), on your site, we won't show those as "stars" in search. If the reviews are elsewhere, then we would show those there.

— 🍌 John 🍌 (@JohnMu) September 17, 2019
It's specific to reviews about your business, we tweaked the text in the blog post to make it a bit clearer: "Self-serving reviews aren't allowed for LocalBusiness and Organization" (reviews for, say, products you sell are fine)

— 🍌 John 🍌 (@JohnMu) September 16, 2019
Change went live on the 17th of September, 2019
Google appears to have already launched this update. Rankranger's SERP feature tool shows a significant drop in the percentage of Review snippets showing in the search results.

---
How it feels to browse websites in 2019
John Mueller, Webmaster Trends Analyst at Google, liked a tweet containing a video on what it feels like to browse websites in 2019.
I hope you find it as funny as I do:
How it feels to browse websites in 2019... pic.twitter.com/LeBN2K26RA

— Sterling (@HugdiSpencer) September 10, 2019
---
Google Chrome to provide answers directly in the Address bar
Google has announced that coming in the fall, on both Android and Desktop, answers will show up in the address bar when you type your search query.
---
Google launches new YouTube Series "Google Search news"
Google has launched a new YouTube Series, fronted by John Mueller. Its goal is to provide a short summary of the main things happening around Google Search.
You can view their first episode below:
In their first episode, they cover:
Recent updates to Search Console
Changes in the webmaster office-hours setup
Advances for rel=nofollow & related attributes
Changes in review rich results
New meta-tags & attributes for your pages' search previews
Some recent Webmaster Conferences
---
H1 Tags are not critical for Search Ranking
On the 27th of September, John Mueller said in a Google Webmaster Central Hangout on YouTube that a website can do "perfectly fine with no H1 Tags, or with five H1 Tags".
So we we get this question multiple times as well. You can use h1 tags as often as you want on a page. There's no limit. Neither upper nor lower bound. h1 elements are a great way to give more structure to a page so that users and search engines can understand which parts of a page are kind of under different headings. So I would use them in in the proper way on a page.

And especially with html5 having multiple h1 elements on a page is completely normal and kind of expected. So it's not something that you need to worry about. And some SEO tools flag this as an issue and say like oh you don't have any h1 tag or you have two h1 tags. From our point of view that's not a critical issue. From a usability point of view, maybe it makes sense to improve that. So it's not that I would completely ignore those suggestions but I wouldn't see it as a critical issue.

Your site can do perfectly fine with no h1 tags or with five h1 tags.
The SEO community responded with a Twitter thread on the subject, and John Mueller responded further:
Absolutely. SEO is all about reducing the need for search engines to think too much :). However, many people panic too much over this. Improve it if you want, but your site isn't going to magically jump to #1 with a H1 with a word. Incremental improvements are great too though.

— 🍌 John 🍌 (@JohnMu) October 2, 2019
This video and tweet caused a bit of a controversy in the SEO community, and John Mueller followed it up with an #AskGoogleWebmasters video:
Essentially, Mueller says that the web is imperfect as everyone does things differently. Google has learned to understand this and that Google systems work well with:
One H1 heading
Multiple H1 Headings
Styled pieces of text (without semantic HTML)
Personally, while I can understand where Google is coming from, I am not convinced.
I have, in the past, tweaked my H1 and Title Tags to target higher volume keywords, and it does result in better Rankings for those keywords. Sure, sometimes it doesn't make much of a difference, but often it does.
I accept Mueller's point about multiple H1's and Style Text, though.
---
Google's John Mueller Strongly recommends not using separate mobile sites
In a Tweet, John Mueller strongly recommended that websites use responsive web design rather than separate Mobile URLs.
He also warns against using Progressive Web Apps (i.e. Gatsby) as it can be "hard to get right" for SEO purposes.
Re:m-dot vs responsive/dynamic serving: I strongly recommend not using m-dot URLs if you can, especially with new sites. It makes everything so much easier. Re:PWA -- they can do cool stuff quickly, but they're also hard to get right, especially for SEO (not impossible though).

— 🍌 John 🍌 (@JohnMu) September 27, 2019
---
Google: HTML Sitemaps Not Worthwhile For SEO Purposes
In response to a Reddit question asking if it is "Still worth making HTML sitemaps" Google's John Mueller said the following:
I agree. When it comes to SEO … for small sites, your site should be crawlable anyway (and if you're using a common CMS, it'll almost always be fine) & for large sites, they're not going to be useful anyway (use sitemaps, use normal cross-linking, check with a crawler of your choice).

Do they make sense for users? I guess it's a good signal that your normal navigation & in-site search are bad if people end up going to your HTML sitemap pages :).
I can agree with this for most sites.
However, I do believe that in some cases, a sculpted (i.e., important \ useful content only) HTML Sitemap can be beneficial to increase link equity to those pages. You can find an example of this here.
Web Development News
Updating the user agent of Googlebot
Google will update Googlebot to use an Evergreen version in December 2019. As such, Google will periodically update Googlebot to match the latest Chrome version.
This should not affect most sites. However, there are a few development issues that you may want to consider:
It is recommended that you use feature detection (@supports) instead of user-agent sniffing. If you cannot use feature detection for whatever reason, you should look for "Googlebot" within the user agent.
Upon testing, Google found that some pages present an error message instead of regular page content. One cause of this is ad-blocker detection scripts failing.
Upon testing, Google found issues with pages that redirect to a roboted or noindex document.
Google has produced some instructions on how to test the new user agent here.
Google clarifies where JSON-LD structured data should be placed on the page
John Mueller has recently published another #AskGoogleWebmasters video setting out the various ways Google processes structured data on a web page.
In the video, Mueller answers the following question:
Is it possible to insert JSON structure data at the bottom of the <body> instead of the <head>? It seems to work fine for many websites.
Mueller clarified that there are three different ways to include structured data:
Microdata. Microdata is an open community HTML specification used to nest structured data within HTML content. Like RDFa, it also uses HTML tag attributes for this.
RDFa. RDFa is an HTML5 extension that supports linked data through additional attributes added to existing HTML tags on the page.
JSON-LD. JSON-LD is a JavaScript notation embedded in a script tag. It can be placed in the page head or the body.
One interesting point made by Mueller is that JSON-LD can also be injected into your pages using JavaScript.
You can view the short 1-minute 46-second video below:
---
WordPress 5.3 Enters Beta
WordPress 5.3 is now in beta, with a scheduled release date of November 12.
WordPress 5.3 will be the final major release of 2019 and aims to "polish current interactions and make the UIs more user friendly".
Here are some highlights of what is coming:
New Default WordPress Theme. The new theme, called "Twenty Twenty" is designed by Anders Noren and based on Chaplin. Chaplin was released in July on the WordPress.org theme directory.


New WordPress Twenty Twenty Theme. © WordPress.

The new theme comes with a new font called "Inter". This comes with standard and variable font versions. Variable fonts are a new type of font that contains all weights and styles in one file. It also comes with many OpenType features, such as tabular numbers, fractions, standard ligatures, and contextual alternates.

Design and UI Updates. Some very minor updates to the admin UI bring better consistency and improve the overall appearance.

Improvements to the Gutenberg Block Editor:

Block groups. You can now group blocks together and interact with them all at the same time.
Better Image Block Editor. You can now select a style for your images. It will ship with a default and circle mask, but you can expect more to be added.
Better Columns Block. You can now choose a layout for your columns and adjust the width of each individually.
Better Table Block. You can now add styles to your tables, including striped rows.
Better Latest Posts Block. You will be able to configure excerpts and excerpt lengths.
There is a range of other improvements, and you can find a good summary of the changes here.
Web Hosting News
GoDaddy Launches new Websites + Marketing Tool
GoDaddy has announced the launch of it's new Websites and Marketing tool.
The new tool pairs an easy-to-use website builder with a suite of marketing tools. The great thing about this product is that it is designed for small businesses with little to no knowledge of marketing.
With the new product, Godaddy comes GoDaddy InSight, a smart technology that delivers tailored guidance to webmasters on how to find new customers and engage more deeply with existing ones.
GoDaddy InSight is powered by data science using anonymized data from millions of websites to provide personalized goals. It also allows webmasters to compare their performance to other similar businesses in the industry.
The tool is integrated with Amazon, Google, and Facebook, allowing users to broaden their online reach easily.
Lauren Anonoff, Head of Apps and Experiences, said:
We spend a lot of time talking to entrepreneurs, and they share how much anxiety they have figuring out how to show up online. Even once they build a site, they struggle to know if it's working for them and what else they need to do to get found.

We want to take the guessing and unnecessary work out of the process so that customers can focus on running their business. We built GoDaddy InSight to guide our customers with personalized action plans that provide real results without a huge time investment.
You can view a couple of screenshots of the new tool below:
You can receive 30% off all GoDaddy products via this link.
---

Jonathan Griffin Editor, SEO Consultant, & Developer.
Jonathan Griffin is The Webmaster's Editor & CEO, managing day-to-day editorial operations across all our publications. Jonathan writes about Development, Hosting, and SEO topics for The Webmaster and The Search Review with more than nine years of experience. Jonathan also manages his own SEO consultancy, offering SEO developer services. He is an expert on site-structure, strategy, Schema, AMP, and technical SEO. You can find Jonathan on Twitter as @thewebmastercom.