Google has announced that they have released a broad core algorithm update on the 24th of September 2019. They have named it the "September 2019 Core Update".
Google gave some guidance at the beginning of August about what webmasters should know about Google's core updates, and I discuss this later in the article.
Google gave a few hours notice of the core update via a tweet:
Later today, we are releasing a broad core algorithm update, as we do several times per year. It is called the September 2019 Core Update. Our guidance about such updates remains as we've covered before. Please see this blog for more about that: https://t.co/e5ZQUAlt0G

— Google SearchLiaison (@searchliaison) September 24, 2019
This tweet was quickly followed up by Danny Sullivan, Google's public search liaison, to say that the update was expected in a couple of hours.
He further said that these kinds of updates usually take a few days to roll out fully.
Google confirmed that the September 2019 Core Update went live at around 6.56 pm GMT on the 24th of September.
It is still very early to assess the impact of the update, but the SERP Trackers are already starting to show significant volatility.
In this article, I will look at the following:
The SERP Trackers to see the scale of the update.
Early chatter in the community to gauge the initial reaction by webmasters.
A look at what sectors are affected and any other information from data providers.
Finally, I will review Google's advice on how to deal with this update if you are affected by it.
The SERP Trackers
Most of the SERP trackers are seeing higher volatility on the 24th of September.
Some of the trackers can be slightly delayed, so I suspect it will take another day or two until you can see the full picture.
I'll update these images in a day or two.
SEMrush Sensor:
Rank Risk Index:
Mordy Oberstein from Rank Ranger said on Twitter about the level of volatility shown in the chart below:
I was going to try to pull some data on the Sept. 2019 Core Update… but the roll-out seems to be starting really slowly…

These levels of fluctuations are "high" but nothing like we normally see during a core update (typically).
MozCast: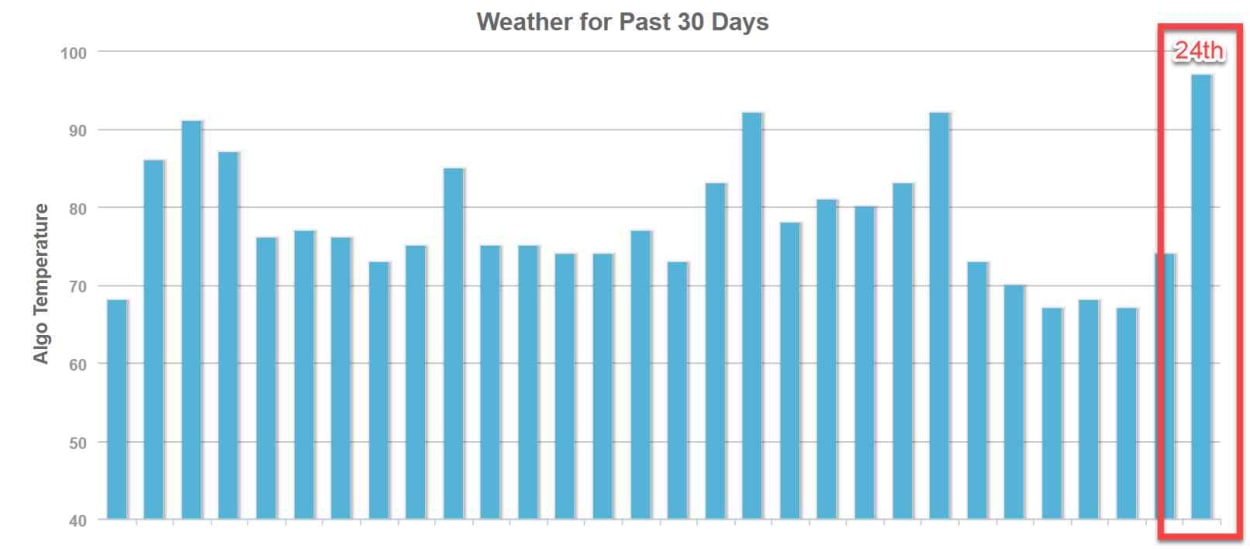 Algoroo:
SERPMetrics:
Advanced Web Ranking:

CognitiveSEO SIGNALS:
CognitiveSEO SIGNALS shows significant volatility on the 16th and 18th September.
Chatter in the SEO community indicates a Google Update took place
Let's take a look at the discussions on WebmasterWorld for this core update.
I was hit by the June Core update, lost roughly 75% of my traffic. But I'm seeing some improvement since Monday, it's more prominent today. Pray it stick. (cabsco)
I see plenty of ranking movement in Google right now, more than usual. Anyone seeing anything? (HereWeGo123)
I am in the US, with mostly US consumer market targeted. It's past midnight here. I am too overwhelmed with the crazy swings happening now. Can't sleep. Seeing insane amounts of shifts everywhere. I saw some competitors get knocked out. (HereWeGo123)
Seeing little bit of improvements, Entertainment Niche . (sk7411)
I am seeing significant changes. I am back on Google Discover, Google News. Traffic trippled, new articles are ranking on SERPs as they did before June. Old articles haven't recovered yet. I hope this continues.(MayankParmar)
Bill Lambert
Throughout the year someone called Bill Lambert has been posting in the comments section on Seroundtable with insider information from Google.
Rumors have it that he is a member of the Google Search Team, but I suspect the name Bill Lambert is likely a pseudonym.
Past pieces of information from Bill has predicted Google Updates as well as other valuable information. It is worth reading anything he says, but equally, treat it with some caution.
Bill Lambert has provided the following comments about this update:
In fact going by meetings today this will still be up in the air until next week. A I explained, prior to an update you will see traffic & metrics like you are used to. This is because while the core algo is updated the various "filters" designed to take your traffic away are not live. While the update rolls you will see flux. Post update you will see traffic levels around where they were prior to the update BUT these will slowly drop away. We are still in filter drop mode. Geo targeting will be out for the next few days too (as it was last week with the test).
It will be interesting to see whether the update does continue into next week as Bill claims. Initial comments directly from Google indicate that it should take just a couple of days.
Who does the Update Effect?
Looking at the SEMrush Sensor Deviation (from the average volatility) for the 24th of September 2019:
It would appear that Food & Drink, Computers & Electronics, and Finance are the worst affected categories.
As the update has only just started, it is a little early to make any real conclusions at this time. I will update this article again as the data providers reveal more information.
While it is useful to look at categories, you should bear in mind that Google Algorithm Updates targets types of queries, not categories per se. That being said, John Mueller has said that types of queries and specific categories often go hand-in-hand.
What to do if this update hits you
Google's standard advice for Core updates is that there is nothing you can do to fix them:
As explained, pages that drop after a core update don't have anything wrong to fix. This said, we understand those who do less well after a core update change may still feel they need to do something. We suggest focusing on ensuring you're offering the best content you can. That's what our algorithms seek to reward.
That being said, Google acknowledges that webmasters will be looking to fix something and as such Google recommends focussing on providing quality content.
Below is a list of questions they recommend that you ask yourself about your content:
Content and quality questions:
Does the content provide original information, reporting, research or analysis?
Does the content provide a substantial, complete or comprehensive description of the topic?
Does the content provide insightful analysis or interesting information that is beyond obvious?
If the content draws on other sources, does it avoid simply copying or rewriting those sources and instead provide substantial additional value and originality?
Does the headline and/or page title provide a descriptive, helpful summary of the content?
Does the headline and/or page title avoid being exaggerating or shocking in nature?
Is this the sort of page you'd want to bookmark, share with a friend, or recommend?
Would you expect to see this content in or referenced by a printed magazine, encyclopedia or book?
Expertise questions:
Does the content present information in a way that makes you want to trust it, such as clear sourcing, evidence of the expertise involved, background about the author or the site that publishes it, such as through links to an author page or a site's About page?
If you researched the site producing the content, would you come away with an impression that it is well-trusted or widely-recognized as an authority on its topic?
Is this content written by an expert or enthusiast who demonstrably knows the topic well?
Is the content free from easily-verified factual errors?
Would you feel comfortable trusting this content for issues relating to your money or your life?
Presentation and production questions:
Is the content free from spelling or stylistic issues?
Was the content produced well, or does it appear sloppy or hastily produced?
Is the content mass-produced by or outsourced to a large number of creators, or spread across a large network of sites, so that individual pages or sites don't get as much attention or care?
Does the content have an excessive amount of ads that distract from or interfere with the main content?
Does content display well for mobile devices when viewed on them?
Comparative questions:
Does the content provide substantial value when compared to other pages in search results?
Does the content seem to be serving the genuine interests of visitors to the site or does it seem to exist solely by someone attempting to guess what might rank well in search engines?
Google also recommends that you read the Google Raters Guidelines in its entirety.
There is some excellent guidance relating to E-A-T and content quality in the guide. For example:
The guide goes into a lot more detail about the topics above, but as you can see, Google looks at a wide range of elements of your site.
A simple example that you can take from E-A-T (Expertise, Authoritativeness, and Trustworthiness) is that you need to demonstrate on your site that you have the necessary expertise.
Do you have detailed author pages with details of your qualifications, and perhaps links to your Linkedin page?
You will find that many of the questions I quoted above are directly related to the content in the raters guide. Google is trying to tell you something here.