After a relatively quiet August, Google has launched a reasonably significant Google Algorithm Update. Volatility started on the 28th of August, ramping up on the 29th and 30th.
A member of the Google Search Team (unconfirmed) mentioned this update was coming a couple of weeks ago. Interestingly, he recommended increasing your users time on site before it hits.
There has also been significant chatter in the SEO community, starting late on the 28th of August. Some users are reporting recoveries of previously lost traffic, including from the June Core update.
I'll cover these points in more detail later in the article.
The SERP Trackers
Let's take a look at the SERP trackers:
SEMrush Sensor:
The SEMrush Sensor shows "high" volatility on the 30th of August. Unlike the other trackers shown below, its spike is over just one day. Most other trackers show much more volatility over the preceding one or two days.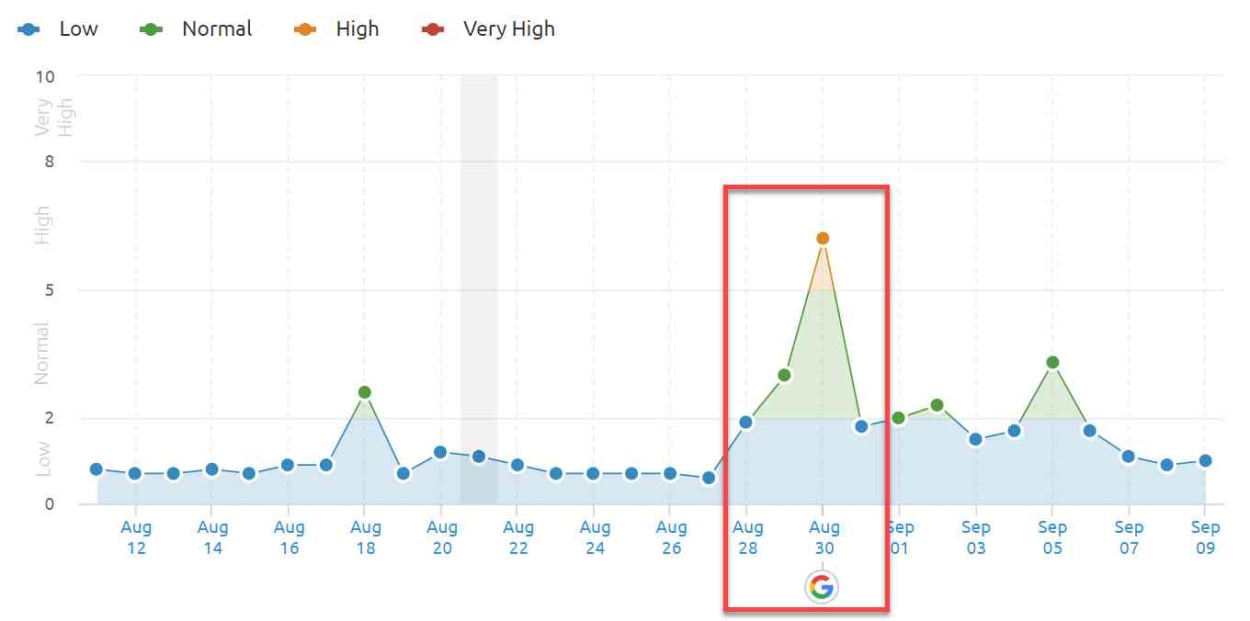 Rank Risk Index:
The Rank Risk Index tracker shows that the Google algorithm update hit on the 29th and 30th August. The disruption to the SERPs also continued until the 2nd of September, albeit, to a lesser extent.
MozCast:
The MozCast weather report also shows the update hit on the 28th of August, continuing through to the 30th.
Algoroo:
The Algoroo report shows similar volatility to MozCast.
Advanced Web Ranking:
Advanced Web Ranking shows a clear spike over two days, commencing on the 29th.
CognitiveSEO SIGNALS:
CognitiveSEO SIGNALS shows the volatility starting on the 29th, continuing through to the 31st of August. The discrepancy between the exact dates is probably due to the way they collect data \ time zones used on charts.
What does the SEO community say?
Let's take a look at the discussions on WebmasterWorld for this update.
+15% traffic today (against same day last week). Something happened. It is just me ? France, Finance niche (glakes)
Not much of an increase in traffic here, but Google is giving me some traffic back to pages that used to do very well before June. (whoa182)
I am seeing some big increases for USA keywords this morning. Most of these are ones that dropped quite a lot in the last two or three weeks. (sem4u)
Any of you guys that are now seeing lifts, those that got hit by the June update? (BushyTop)
No, this site wasn't hit by the June update. (sem4u)
Lots of keywords have dropped from No1 position for me. I get around 200k+ Pageviews daily but today so far, its very low and I'm hoping I cross 150k at least. I'm sensing a possible major algorithm update before the week runs out. (Danibliss)
@ Bushy Top: No lifts on my side and I was hit very hard with the June Update. (ChokenBako)
I'm seeing 5-10% drops week over week in the US in the past couple of days, including today. I also saw similar drops last week. I can't really figure out what's going on as my biggest volume keywords are pretty much ranked the same. What's even more weird is that I can't see any drops in Google Search Console for the same days - for example, for a period where there is a 10% drop in GA, there is a corresponding 1% drop in GSC. I don't know which data to trust anymore. (swright)
I definitely also think that Google is either testing, brewing, and/or even rolling something out. Perhaps, Bill Lampert was right. One indicator, amongst many other things, shows that a particular reputable site would rank no. 1 for one of the most competitive KWs for YEARS. Today, they're not there. (HereWeGo123)
Big increase in traffic after a week or so of going down hill, The person who predicted a update between 29th and 30th August was right so far! (Paperchaser)
I'm getting traffic to a lot of the pages which dropped massively in June. It's not much, but it does feel like Google is testing something. (whoa182)
Judging by crawl patterns, odd traffic, etc., I'd say we are in the early stages of a major update. My guess is in 1-2 days the you know what will hit the fan. Just in time for a long weekend, which Google historically has used to push major updates. (glakes)
Seeing some fluctuations mostly upwards. Yesterday was good lets see how it goes today. (seomotionz)
After 3 weeks of gradual growth, in the last 24 hours I have taken another hammering. I cant make sense of it. There is no pattern whatsoever. (BushyTop)
Yes, SERP trackers confirm the update. This is the second algo update prediction from Bill Lambert I've seen that was spot on. There may be more that I did not see. But thanks to forum members StupidIntelligent for posting the info, and BushyTop (the post that caught my eye), we all can witness the truth in Bill Lambert's prediction. Let's not forget what else Bill Lambert said - try to keep people on our websites. Time on page/site may now be a ranking factor or more important. (glakes)
Yes , I would agree that is a suitable term for the people at google that do this rearranging Ive noticed a change today with traffic levels lower and some changes in the serps. I wouldnt take the current state of the serps to be an indication of where they will be after the update finishes rolling out though. I have seen similar patterns whilst other updates have rolled out such as for one keyword that I am number 1 I drop down a few spaces to be replaced by a site that was no where to be seen before that looks like it was designed in 1970, isnt even in english (the language im searching in) and contains Lorum Ipsum in the footer. I know this will be temporary but ive no idea how google at any stage can think that is a good result to display. If dwell time is a factor now then I would expect a boost from it as in general I have quite good time spent on my site when people are actually allowed to find me. (Milchan)
My site was hit in June, didn't see any sign of an update. If it is a core update, I expect Google to announce it. And looking at the thread so far, it seem only those who were not hit in June are experiencing the ups and downs. (cabsco)
Who does the Update Affect?
Bill Lampert, a (self-proclaimed) member of the core search team at Google posted this update was coming a few weeks in advance.
Bill predicted the rollout of this update on the 29 or 30th August and that you should endeavor to get your website visitors to spend as much time as possible on your website.
I suspect there is some truth to the assertion that dwell time is now important for your Google Rankings.
Another interesting insight, which may or may not be relevant, is the association made in the above forum post to affiliate links.
I suspect this may affect the lower-quality sites, but I have not heard any complaints from affiliate marketers myself.
What Sectors are affected?
Looking at the SEMrush Sensor Deviation (from the average volatility) for the 30th August (the day their SERP Tracker spiked):
The update appears to be targeting a wide range of categories, rather than say categories typically hit by E-A-T or YMYL.
EAT is where the query demands the author has Experience, Authority, and Trust). YMYL is where the content affexts Your Money or Your Life. Typically
The update appears to be targeting a wide range of categories, rather than say categories typically hit by E-A-T. EAT is where the content demands the author has Experience, Authority, and Trust) and is required for Your Money or Your Life (YMYL) queries.
I should point out at this time, that while it is useful to look at categories, Google targets types of queries, not categories. However, John Mueller, webmaster trends analyst at Google, has said that types of queries and specific categories often go hand-in-hand.
What to do if this update hits you
The best advice I can give you is to read the Google Raters Guidelines in its entirety.
There is some excellent guidance relating to E-A-T and content quality in the guide, and the advice comes straight from Google.
I strongly believe that improving content quality will also improve the amount of time a user spends on the page. Dwell time, as you have read, may now be a Google Ranking Factor.