Google has announced that it has released a Broad Core Algorithm updateon the 3rd of June. Google usually releases these several times a year, and despite the announcement, has confirmed that this update is nothing special or particularly "big".
Since the naming debacle of the March 2019 Core Update, Google now officially names their Core updates. In this case, they have named it the "June 2019 Core Update".
The update and name were pre-announced by Google:
Tomorrow, we are releasing a broad core algorithm update, as we do several times per year. It is called the June 2019 Core Update. Our guidance about such updates remains as we've covered before. Please see this tweet for more about that:https://t.co/tmfQkhdjPL

— Google SearchLiaison (@searchliaison) June 2, 2019
Danny Sullivan, Google's public Search Liaison, confirmed that the update is "definitely noticeable."
Google announced the completion of the rollout on the 8th of June, 2019.
The announcement of both the start and finish dates is significant as it allows webmasters to attribute any changes between these two dates to the specific update.
I should also mention that Google also rolled out the Diversity Update during these five days, on the 6th of June. The diversity update is intended to limit websites from having multiple results for any search query. According to Moz, the impact of this update was minimal.
NB: This article has been heavily updated with further information since the update.
The SERP Trackers show an average-sized update
The update rolled out over about five days, with increased volatility clearly showing:
Let's take a look:
SEMrush Sensor:
SEMrush shows a relatively small level of volatility commencing on the 4th of June.
Accuranker:
Accuranker also shows volatility starting on the 4th of June.
Rank Risk Index:
Unlike SEMrush and Accuranker, the Rank Risk Index shows a very high level of volatility starting on the 4th of June.

MozCast:
Like the Rank Risk Index, MozCast also shows a very high level of volatility for Google's June Core Update.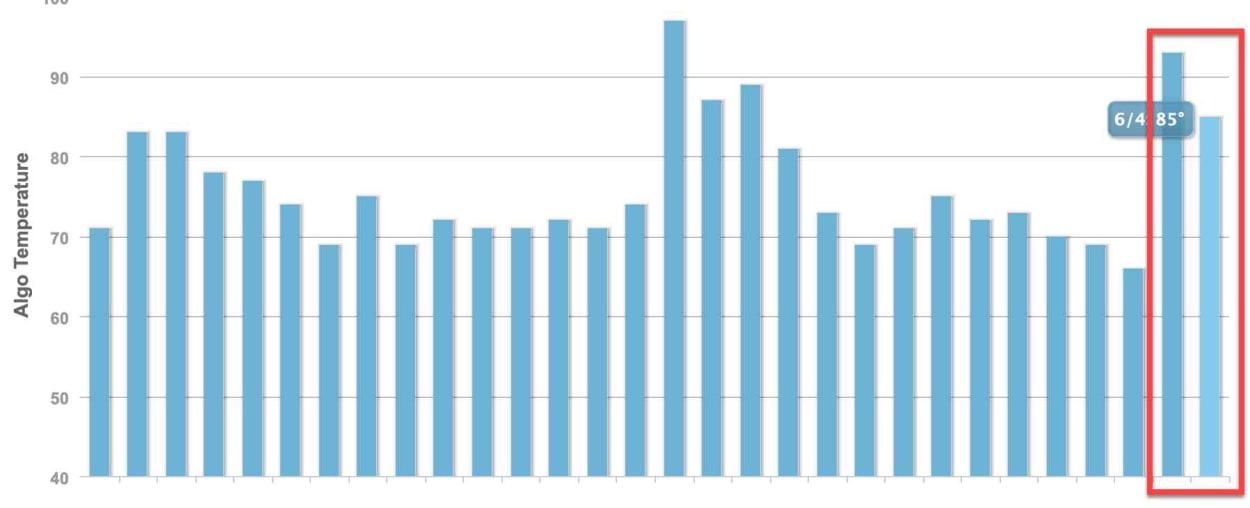 Algoroo:
Algaroo also shows a very high level of volatility.
Advanced Web Ranking:
Advanced Web Ranking is more in line with SEMrush and Accuranker, showing reasonably low levels of disruption in the SERPs.
SERPmetrics:
SERPmetrics shows a clear spike for the 3rd and 4th of June.
CognitiveSEO SIGNALS:
CognitiveSEO SIGNALS shows relatively low levels of volatility.
What has Google said about the update
Danny Sullivan indicated before its release that the update was not particularly "big." This corresponds with the level of volatility I see in the SERP trackers.
I've seen much larger core updates.
The explanation given for pre-announcing the update is that Google wanted to be more proactive and avoid the need for them to play catch-up.
You cannot do anything to fix your site from this update
Accompanying the announcement tweet, Google referred to its previous guidance provided in August last year:
Here's an update about updates -- updates to our search algorithms. As explained before, each day, Google usually releases one or more changes designed to improve our results. Most have little noticeable change but help us continue to incrementally improve search….

— Google SearchLiaison (@searchliaison) October 11, 2018
Sometimes, we make broad changes to our core algorithm. We inform about those because the actionable advice is that there is nothing in particular to "fix," and we don't want content owners to mistakenly try to change things that aren't issues…. https://t.co/ohdP8vDatr

— Google SearchLiaison (@searchliaison) October 11, 2018
The critical point being made is that with Core Algorithm updates, Google says there is nothing that you can do to fix your site.
Core updates are more about how Google interprets your query, and how relevant that is to the information returned in the SERPs.
I disagree that there is nothing you can do, and I will cover this later in the article.
What do the Data Providers say?
Searchmetrics
Searchmetrics wrote a blog post with some initial findings:
Increase in Video Carousels - According to SERPmetrics, video carousels now make up 61.1% of desktop searches. The day before the core update, they made up 56.8%.

Low-quality news sites targeted - Google appears to be getting better at assessing the quality of news sites. Several news sites offering low value have been targeted - Daily Mail, Fast Company, and CBS. I look at the Daily Mail example when reviewing Sistrix's data.

Trusted aggregator sites boosted - Sites such as Yelp and Yellowpages have seen an increase in visibility.
Sistrix
Sistrix carried out some initial analysis on the core impact and published a list of winners and losers.
The winners are as follows:
Johannes Beus at Sistrix wrote:
It is noticeable that in this round, the breadth of affected domains is wider. News media sites are noticeable among the visibility winners of the update along with a few retail sites, health-related and images sites.
The losers are as follows:
Johannes Beus at Sistrix wrote:
Among the losers we can see many from the "Your Money, Your Life" category. Again though, news media and retail are included which keeps the field wide.
Sistrix sums up their research by saying that "the field of affected domains seems to be wider in this Google Core update than in previous updates."
That last point is rather interesting. It would suggest that the update is not targeting a specific category such as YMYL, and associated factors such as EAT (Expertise, Authority, and Trust).
That being said sites with low trustworthiness may have been hit.
Sistrix compared the visibility of three UK News sites:
Interestingly, the Daily Mail has been designated as a Questionable Source by Media Bias/Fact Check.
A questionable source is defined as:
A questionable source exhibits one or more of the following: extreme bias, consistent promotion of propaganda/conspiracies, poor or no sourcing to credible information, a complete lack of transparency and/or is fake news.
The Daily Mail is designated as "Right, Propaganda, Conspiracy, Some Fake News." One reason given for the designation is an article titled "Woman, 63, 'becomes PREGNANT in the mouth' with baby squid after eating calamari."
Moz
Interestingly Moz identified some substantial gains for health-related sites. Health is a typical YMYL category.
This may indicate that this update is similar to the March Core Update that targeted YMYL and EAT.
Seeing big gains for a few health sites yesterday, including Healthline and Verywell Health. More losses for Dr. Axe.

— Dr. Pete Meyers (@dr_pete) June 4, 2019
No major shifts in SERP features, including Medical Panels.

— Dr. Pete Meyers (@dr_pete) June 4, 2019
High flux across verticals, but unusually high for Health (114° vs. 70° for previous 30 days) and Food & Groceries (109° vs. 75°). Keep in mind that MozCast is split into 20 verticals, so this reduces the sample size quite a bit.

— Dr. Pete Meyers (@dr_pete) June 4, 2019
Rank Ranger
Rank Ranger's initial findings indicate that the Travel, Retail, Gambling, Health, and Finance categories were hardest hit.
Interestingly, typical YMYL categories, such as Health and Finance, were among the hardest hit.
What does the SEO Community say?
Let's take a look at the discussions on WebmasterWorld for this update.
My main site is down 30-50% today, hope you all did much better than me. (BangkokBaby)
30% traffic drop, some keywords have slipped to the second page from first, second or third position. I don't know how I can make those pages even better. It has positive comments from readers. What's funny is that the top 3 sites are now big publications like The Verge but their article doesn't help with the query. This is another update that favours big sites. (MayankParmar)
After a couple of months of good growth, it seems i have taken a pounding over the past 24 hours. UK, Automotive (BushyTop)
I noticed an increase in traffic almost instantly after the update, which continued until around 8am BST, but back down since then. Hoping the early increases will return and it's just a case of Google rolling it out across all data centers… (samsseo)
@samsseo same here. I got a 70% increase in organic traffic instantly, checked Google analytics and realized the 70% boost was all coming from only desktop. Now it's back down to zero over here at the exact same time the update started yesterday. (Halaspike)
I'm seeing a lot of movement now. For lots of keywords, one minute I'm on page 1, then page 3, and back again. (whoa182
Initial trends are in for us : we are -10% down and will probably slide that way with every push of this update to their various DCs . I do not expect anything positive throughout the week either coz the initial trend mostly says where your site is heading for the final settlement. (sk7411)
Yeah seeing some significant changes in UK Financial Services on Google. Lots of big changes for some big websites on this topic actually. (vlexo)
Everything is looking like a mess right now, not good! For example, I have an article about one specific food to help with something, and in the first 7 positions, that main keyword is not even mentioned once in the title. It's full of things like: "25 foods for…" Mostly big brands ranking and non-relevant articles. Trust/Authority UP. Relevancy DOWN. (whoa182)
I've been bleeding heavily since Friday afternoon so I don't know what to make of it. After two months of steady positive growth it was wiped out in a matter of 12 hours. (lostshootingstar)
Traffic drop 60% some keywords which were ranking on 1,2,3 position are now on 3rd page it seems like a penalty even though not made a single Blackhat thing. But some which were ranking on position 40-70 are now on 10-20 so it seems like no penalty. Kinda confused. (gerva)
Up to 50% drop. Semrush report says some keywords are now out of top 50 from 1, 2, 3rd positions. (MayankParmar)
@lostshootingstar It appears to be the same here. All the slow but steady progress I've made since March has been wiped out. (whoa182)
Seeing drop of 25% organic traffic, my website is related to the health industry….. (tarun210)
And i am done :) last update pushed me higher, and now google took all and more back, so wtf are these idiots tweaking, they can't make up their minds. 25k users day gone to nothing i am done (givinguponlife)
Got hit again with another 20% drop. 41% yesterday and 20% today for a total of 61% traffic drop. As mentioned around 75% of the updates this year pushed my site up (into new highs), not I'm at lows of what I had in 2015.. (BangkokBaby)
It started to drop yesterday and has dropped by another 20%, the overall drop is now accounting to 50%. (MayankParmar)
What to do if this update hits you
Google's standard advice for Core updates is that there is nothing you can do to fix them.
If however, you continue to focus on writing high-quality content and updating existing content, you will be rewarded by Google.
The best advice I can give you is to read the Google Raters Guidelines in its entirety.
There is some excellent guidance relating to E-A-T and content quality in the guide, and the advice comes straight from Google.