Early chatter in the SEO community hints at this Google Algorithm Update mainly targets UK-based queries. The SERP trackers indicate the update has been rolled out globally. Even so, the nature of the update does appear to differ between the UK and the US.
Initial observations indicate that this update has hit a broad number of sectors in the UK, with Finance, Health, Law & Government most affected. These are typically topics that require a high level of Expertise, Authority, and Trust (E-A-T).
In the US, the volatility is slightly lower for these sectors, with Food & Drink and Jobs & Education also targeted quite heavily. This may be why (apart from the time-zone difference), the initial chatter mentioned UK-based queries.
There has been no official announcement of the search update, and Google has not confirmed it.
Let's look at this in a little more detail.
This article was updated on February 14, 2019. You can read the relevant updated part here.
The SERP Trackers
SEMrush Sensor:
The SEMrush Sensor shows a significant spike for the US-based SERPs.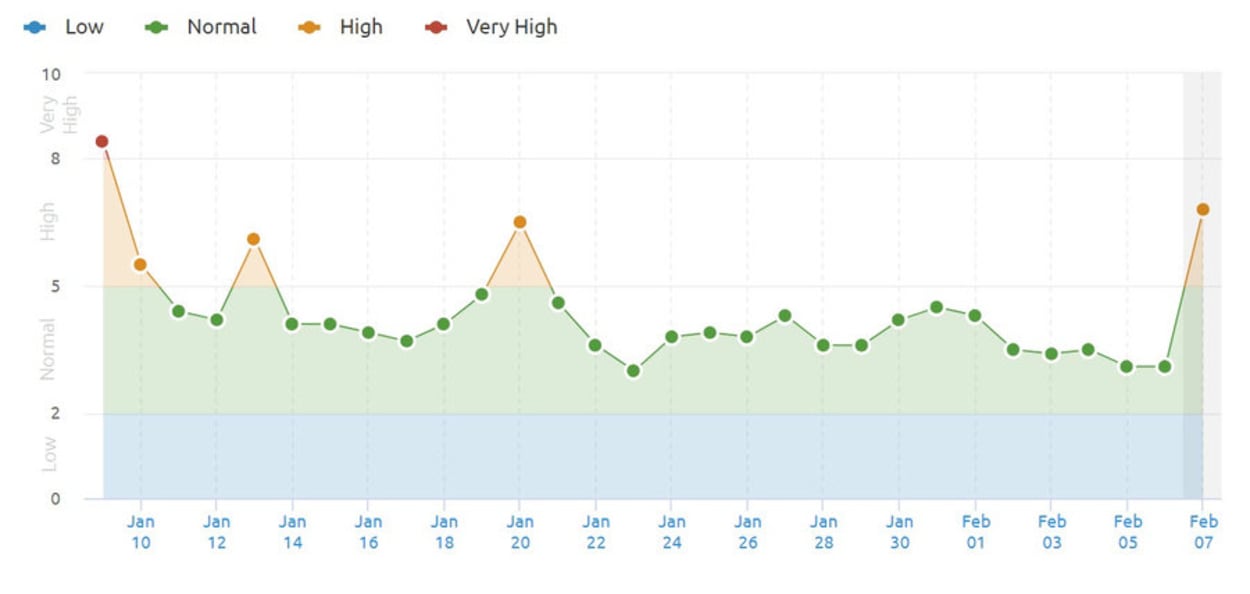 The UK-based SERP volatility is even higher:
Rank Risk Index:
The Rank Risk Index tracker shows a similar level of volatility to the SEMrush Sensor.
SERPMetrics:
The SERPMetrics report shows the increase in volatility from February 6. The chart has not yet updated for the 7th.
Chatter in the SEO community indicates there was a Google Update
WebMasterWorld
Let's take a look at the discussions on WebmasterWorld. You can take a look yourself here.
Semrush showing high activity again in the UK…. brace yourselves (BushyTop)
Already seeing significant changes in UK traffic for last 2 days. (Cyril TechWebsites)
I'm noticing some spikes in traffic over the last few hours. I just checked the US and UK database on SEMRush and there could be an update going on. It's at 8.5 for UK mobile. (whoa182)
Yeah, I'm seeing SERP shakeup on mobile and desktop US… my position average is all over the place again
Edit: Yay! I'm Seeing positions back to what they were before January's catastrophic update! (NickMNS)
Black Hat World
I am not currently seeing any chatter on Black Hat World about this update.
Who does the Update Effect?
Looking at the SEMrush Sensor Deviation (from the average volatility) for the US:
Looking at the SEMrush Sensor Deviation (from the average volatility) for the UK:
E-A-T updates typically affect categories that require a lot of expertise, such as Finance and Health. As I mentioned in the introduction to this article, it would indicate that this is an E-A-T style update, at least for the UK.
E-A-T being the type of site that Google wants to see a higher level of Expertise, Authority, and Trust. For example, Google wants to see Doctors (or other suitably qualified professionals) write or review medical-style articles.
Interestingly, the volatility for these sectors is much higher in the UK than in the US. It is possible that different phases of the Google update or various tests of an update are being rolled out in different geographical areas.
It isn't very easy to say what is going on in the US at this time.
Update: February 14, 2019.
Marie Haynes noticed that some of her clients who had been working on quality improvements (including technical issues) saw some small gains with this update.
Haynes further indicated that some of her clients who were trying to recover from the Medic Update (August 1, 2018) or September 27, 2018, update saw no recoveries with this update. She did note that these clients probably required massive changes to their website \ strategy, so I am not sure you can read much into that.
Actions to take if you have lost traffic
My best guess is that this update targets E-A-T, but I wouldn't rule out content quality either.
I recommend that you review your site's content for overall quality. If you write about topics that require some expertise, read Google's guidelines on E-A-T, which you can find on page 24 of this PDF. I recommend reading the guide in full.
For a high-quality page, Google wants to see the following:
Very high level of Expertise, Authoritativeness, and Trustworthiness (E-A-T)
A very satisfying amount of high or highest quality Main Content.
Very positive website reputation for a website that is responsible for the Main Content on the page. Very positive reputation of the creator of the Main Content, if different from that of the website.
How I have been improving content on The Webmaster
I have been reviewing the content on The Webmaster over the last month or two following the launch of the new site design in November 2018. As part of that, I have been refreshing old content (rewriting, improving), pruning, and combining the lower-quality content.
The new site design also brought with it a significant change in strategy. The focus is now on high-quality evergreen content, rather than news-based content.
Let's take a couple of examples of how I have been improving old content to increase traffic, and site quality score.
I had some old cPanel tutorials dated back to 2014 and 2015. I created a new page template where the tutorials now reference HowTo Schema Markup. The design of the tutorials was also improved.

You can see an example of one of the tutorials here. I made some minor improvements to the text (mainly removing fluff) and added new images. I moved overnight from page 3 of Google to the front page.

Another page I updated was an article on the differences between HTTP/1 and HTTP/2. This was almost a complete rewrite targeting new keywords and included custom diagrams created using Google Drawings. Here, I moved from position 17 to position 7 for a keyword that generates 320 searches per month alone.
In other words, with:
Careful selection of Keywords (don't be afraid to update your keyword choice when reviewing content)
Use of the SEMrush SEO writing assistant (to make sure your content uses the write semantic words)
Use of the SEMrush On-Page SEO checker after it is published to get more optimization ideas.
And a focus on writing high-quality content that helps the user.
You can make some serious traffic gains. SEO tools such as SEMrush, Moz, or Ahrefs can help.
For E-A-T, I highly recommend working on your author bios and author pages. Show the user, and Google, that you do have knowledge and experience of the subject matter you write about (see my author bio at the bottom of this page, as an example).