We have been tracking some significant movement in the SERPs from around October 17th that indicated a major Google Update had taken place. The only official information about the update from Google (Gary Illyes) is that it most likely relates to a core algorithm update, rather than Panda or Penguin.
It seems like the update was rolled out over several days, as the SERP trackers are showing variations on when it hit. However, it looks like it commenced on October 17th and continued through to the October 22nd. You can see the tracking graphs below:
MozCast
The MozCast tracker shows a significant spike in volatility on October 17th, with a reasonable amount of volatility continuing until October 22nd.
Rank Risk Index
The Rank Ranger Risk Index shows one of the largest spikes we have seen in its index on the October 20th, with volatility continuing for three days until the October 22nd. This is slightly later than MozCast, but we don't read much into the discrepancy.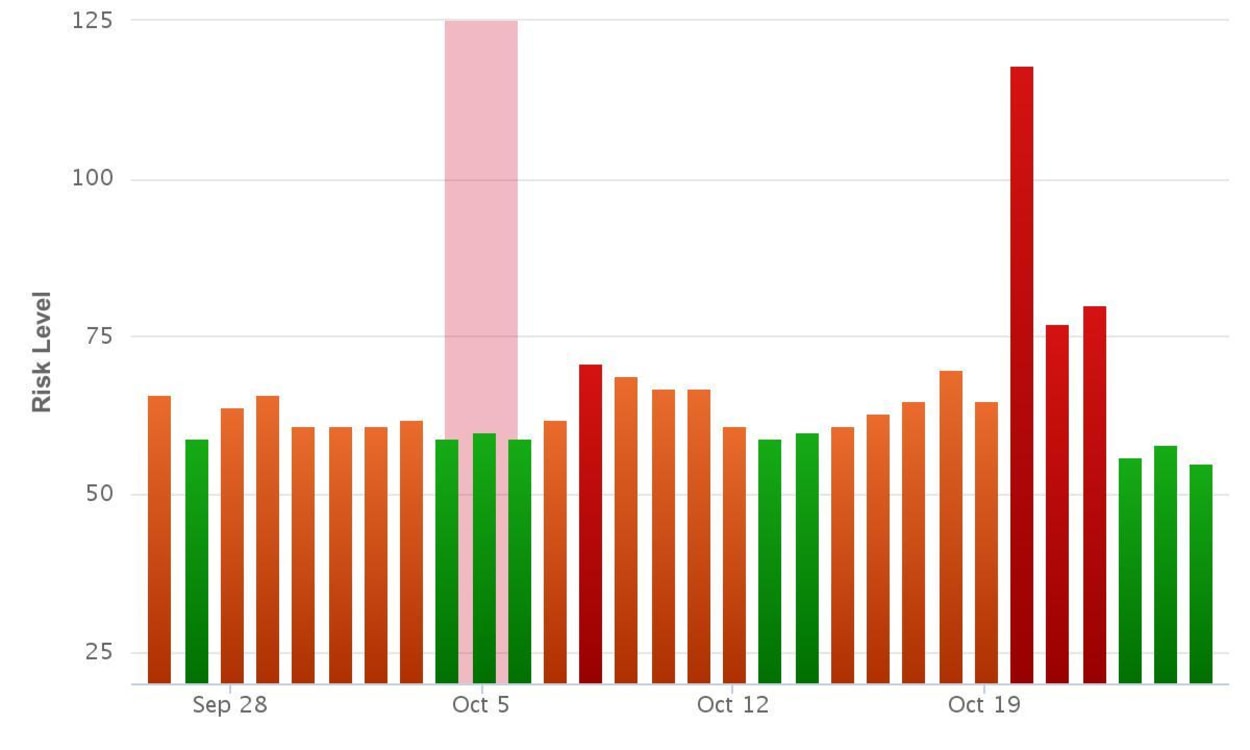 What is the Update Targeting?
Updates that are not unique to Panda (website Quality) or Penguin (Spam i.e., low-quality backlinks) can be notoriously difficult to identify. Despite all the chatter around the web of the update, there doesn't seem to be anything concrete.
One repeated theme throughout the SEO forums is mention of a Halloween Zombie Update, but this talks more about users noticing that their traffic is not converting and that the visitors are behaving like zombies (i.e., bot-like). However, discussions about Zombie traffic are nothing new, and it may not even be related to this recent volatility. We do not believe this is related.
Another theory is that October 17th is precisely a year since Penguin 3.0 was released, and significant evolution in the algorithm targeting webspam (i.e., spammy backlinks). We have previously mentioned that Google Penguin is due to operate in Real Time from the next update (reportedly due this year). It is possible that some parts of the Penguin Algorithm are slowly being incorporated into the core algorithm. Gary Illyes recently said on the October 22nd that "Google Penguin is not ready for prime time yet." With Penguin very much on their minds, this may be related.
That being said, very little of the chatter around the web seems to indicate that it is Spam related. Gary Illyes at Google has not been very helpful either, although at least he implies it was a Core Algorithm Update:
@AGr4ves Sorry, Alex, we don't confirm updates to our core ranking algorithms. We make hundreds of changes to it, this could have been one.

— Gary 鯨理/경리 Illyes (so official, trust me) (@methode) October 22, 2015
One of the most active forum threads about this update is from Black Hat World. Here is a summary of useful findings in that thread:
Despite many websites that use the Sape Network (Blog Network for spammy backlinks) being hit on October 15th, this update does not seem to be related.
Some users suspect this is just a general "shake-up" rather than anything specific being hit.
One user reports that their Black Hat SEO website that used low-quality web 2.0 properties were hit. This could indicate a tweak to the anti-spam parts of the algorithm.
Could it be a coincidence that the most active discussion on this was on a forum notorious for discussing spammy black hat techniques? We think not.
Final Thoughts
Unfortunately, there isn't much decent web chatter that enables us to get an idea of what this update was targeting. This could be an indication in itself, in that it is just a general update fine-tuning their core algorithm in many places. We don't believe that high quality "white hat" websites have been particularly affected by this.