While chatter in the SEO community is limited, the SERP tracking tools are showing an increase in volatility between the 3rd and 5th October.
It is unclear whether it is related to the earlier September Core Update, but I suspect that is unlikely as the latest update affects different sectors.
The SERP Trackers
Let's take a look at the SERP trackers between the 3rd and 5th of October, 2019:
SEMrush Sensor:
Rank Risk Index:
MozCast: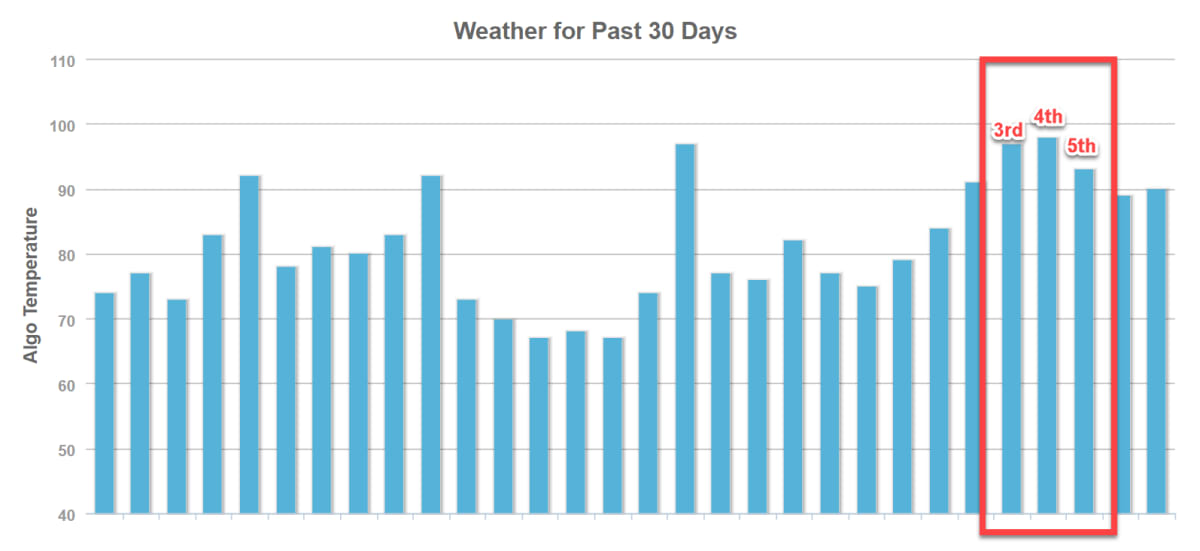 Algoroo:

SERPMetrics:

CognitiveSEO SIGNALS:

Chatter in the SEO community indicates a Google Update took place
There is very little chatter in the SEO community about this latest volatility. I've only managed to track down a couple of comments on WebmasterWorld.
Possible rollback or new update? My company actually benefited slightly from the last update. (glakes)
more big changes. Content farms are rising again to their pre update positions. If you offer something for free to get ad revenue, it will survive. If you're selling a product or service, you will not…at least in my vertical. My zero traffic now goes on for many hours, time to throw in the towel. (samwest)
Today marks yet another record low for the week. Half of last week…again. (samwest)
Who does the Update Effect?
Looking at the SEMrush Sensor Deviation (from the average volatility) each of the days between the 3rd and 5th of October:
The sectors targeted by this update differ, and I would even surmise that there were two updates rolled out over this period:
The first hitting on the 3rd of October.
The second hitting on the 4th of October and rolling into the 5th.
There is no obvious focus on EAT categories (such as health) in this update. As such, I suspect this update, like most updates, is related to content quality.
What to do if this update hits you
The best advice I can give you is to read the Google Raters Guidelines in its entirety.
There is some excellent guidance relating to E-A-T and content quality in the guide, and the advice comes straight from Google. I've also highlighted some other recommendations here that Google has suggested you consider to improve your SEO.
I also highly recommend two tools:
Firstly, SEMrush. It is what I use as my go-to SEO tool. For example:
Use the SEMrush keyword tool to tweak existing content for keywords that maximize traffic.
Use the SEO Writer to help improve content to target all the keywords used by the top-performing pages.
Audit your site to get quick wins.
Get new ideas for content with their SEO Ideas tool
Using a good quality SEO tool like SEMrush can significantly boost your traffic for a relatively small effort.
You can pick up a 7-day free trial of SEMrush here.
Secondly, I recommend Grammarly. This will significantly improve the quality of your content, and gain is something that I use every day.
Grammarly has an excellent free version, which at the very least, I highly recommend you use. I use the premium version for the more advanced features such as readability stats, vocabulary enhancement, genre-specific checks, and plagiarism checker).
If you go premium note that it is significantly cheaper when paying yearly.

Jonathan Griffin Editor, SEO Consultant, & Developer.
Jonathan Griffin is The Webmaster's Editor & CEO, managing day-to-day editorial operations across all our publications. Jonathan writes about Development, Hosting, and SEO topics for The Webmaster and The Search Review with more than nine years of experience. Jonathan also manages his own SEO consultancy, offering SEO developer services. He is an expert on site-structure, strategy, Schema, AMP, and technical SEO. You can find Jonathan on Twitter as @thewebmastercom.